Associate Director of Strategic Initiatives
Charles Town, WV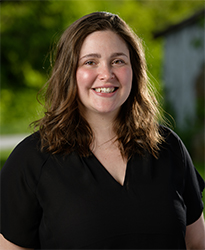 Office: 681.252.4283
Cell: 301.730.8409
Hannah supports Strategic Initiatives at Partner Community Capital (PCAP), developing and managing initiatives such as our clean energy, local food system development, and downtown redevelopment programs, and delivering related products and services. She also coordinates technical assistance and sources loans for PCAP across the Virginias and western Maryland.    
Hannah is active with several regional networks of service providers and capital and funding sources, including the Central Appalachia Network, Appalachian Funders Network, and CDFI Women's Network. She also serves on the Board of Directors for Bright Community Capital (solar investor; subsidiary of Coastal Enterprise Inc.) and the WV Community Development Hub.  
Previously, Hannah led the implementation of a Green Infrastructure Plan for the Central Indiana Land Trust, in partnership with The Conservation Fund. She gained experience in energy solutions through work with the Green Jobs Alliance and US Air Combat Command. 
Hannah earned a Master's of Public Policy from the College of William and Mary, and a B.A. in Economics and Anthropology from Mary Baldwin College (now Mary Baldwin University).