It's a lot noisier than it used to be in Elk City, a 1900's-era section of west Charleston, West Virginia. Young artists, professionals, and entrepreneurs are discovering the charms of Elk City, whose historic buildings are just a short walk from downtown.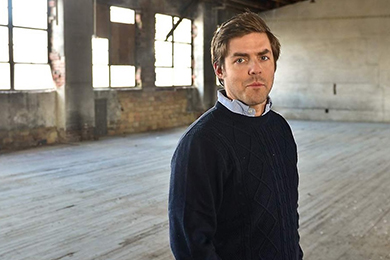 Photo courtesy of Bob Wojcieszak
Sounds of power saws, nail guns, hammer drills, and cement mixers fill the air with the staccato of change, as the once-dilapidated neighborhood gets restored one storefront at a time.
Tighe Bullock and his father, John, are at the forefront of Elk City's renovation. In 2009, while a student at West Virginia University, the younger Bullock bought the deserted Staats Hospital — named by the Preservation Alliance of West Virginia as the most endangered building in the state — with an ambitious plan to turn it into apartments and retail stores. While getting his law degree from WVU, Tighe went on to restore other commercial structures in Elk City. To date, the Bullocks have renovated and restored more than 10 historic buildings; their goal of turning Elk City into a walkable, art-friendly, affordable community is being realized, one building at a time.   
Recently the Dollar General store in the heart of the commercial district closed, and the building went on the market, directly across the street from several Bullock-renovated properties. Tighe needed additional capital to take on the new project. Partner Community Capital™ provided the financing to help Bullock purchase the property and turn the 7,200 square-foot space back into its original four retail stores. Tighe plans to leave its pressed-tin ceilings and restore the exterior to its original character. He has obtained funding from the Charleston Urban Renewal Authority and is seeking grants and tax credit opportunities from other historic preservation agencies.
Partner Community Capital's assistance is crucial to the success of the project. When it comes to obtaining financing for areas with high vacancy rates, traditional lenders are difficult to find. 
Despite its character and unique architecture, Elk City's median household income of $22,463 is the lowest of any section of Charleston, compared to the city's overall $47,582 (Marshall University study, 2014). The renovation and new businesses provide jobs for local residents. Tighe Bullock is especially proud of his work with high school and vocational school students: he trains them, gives them a sense of responsibility, and rewards them for their efforts with increased wages as they gain proficiency.