Earthseed Land Cooperative
The eight co-founders of Earthseed Land Cooperative (ELC) have a vision: to use land to support the collective health, wealth and environmental sustainability of diverse communities in Durham, North Carolina.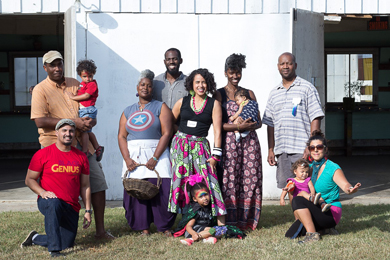 Photo courtesy of Earthseed Land Cooperative.
ELC was founded to serve as a resource to people of color in the region, providing a stable home for small, land­-based, rural businesses and community-based organizations, as well as space to appreciate nature and engage in outdoor recreation. In early 2016, the group took a big first step toward realizing this vision, purchasing a 12-acre parcel of land in rural Durham County that included two residential homes and several buildings suitable for housing small businesses and community organizations.
Role of Partner Community Capital
But their vision was bigger still, and they had their eyes on more than 30 adjacent acres of land ideal for walking trails, outdoor recreation and events, a retreat center and, eventually, housing for the Co-op's members. They needed creative financing to make it happen, so they turned to Partner Community Capital for a loan and worked with Triangle Land Conservancy (TLC), who facilitated an easement to protect 33 acres for the Co-op's use. With the new land, Earthseed now can host everything from a horticulture nursery to outdoor education classes, weddings and small farms, while serving as a business incubator and community resource for people of color in the area.
ELC's holistic approach to land-based enterprises is good for people, the economy and the environment in north Durham. With their most recent milestone achieved, ELC is already hard at work providing even more opportunities for the community, including converting a barn into a community gathering space, opening a community kitchen, creating an art studio, and much more.