Eastern Carolina Broadband
Susan Myers and her husband Al Rachide are entrepreneurs at heart. Al ran the pharmacy in their community of Pink Hill, NC (population 552); together they have purchased and are renovating 40 properties in town. Like most businesses, the internet has been critical to their success.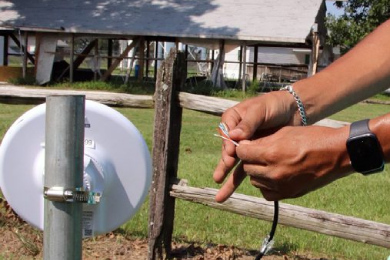 Photo credit: Eastern Carolina Broadband
When Susan learned that 60% of the children in their rural area and 90% of the county's farmers didn't have access to high speed internet, she saw a pressing social need…and a business opportunity. In 2018, Al sold the pharmacy and they created 
Eastern Carolina Broadband
,
 an Internet Service Provider (ISP) with a hybrid fiber and fixed-wireless solution.  Their business model:  lease space on high structures—grain elevators, water towers, communication towers and electric membership coop transmission towers—to form "fiber rings" that wirelessly connect individual homes, farms and businesses with the trunk high speed internet lines.
They knew GREAT (Growing Rural Economies with Access to Technology) Program grants from the NC Broadband Office—which fund 65% of the cost of broadband deployment in unserved areas of economically distressed NC counties—would be critical to their success.  But to qualify for a grant, the company needed $1 million in assets. Investments from local social investors helped, but the startup still needed additional resources.
Susan and Al turned to Partner Community Capital (PCAP) when they found their commercial lender "didn't want to learn the business."  Fortunately, PCAP lender Quinn Coleman did, and he saw the direct connection between PCAP's focus on vital community services and Eastern Carolina Broadband's vision.  With the help of the NC Rural Center's Loan Participation Program and co-lender Thread Capital, PCAP lent Eastern Carolina Broadband the financing it needed to qualify for GREAT funding and fulfill its business plan.
The company is utilizing its PCAP loan to purchase and install the equipment needed to bring (affordable) high speed access to 664 homes, businesses and farms in Jones County and 370 in Lenoir County. The company expects to hear in Q3 2020 about another GREAT grant for Duplin County, which will connect 1,589 households and businesses. The company's waiting list of customers is over 2,500. The company now has 9 employees—including Susan's daughter who has returned home after earning a B.S. in Computer Science to work in the family business—and is hiring four more.