Sustainable Solutions, LLC
Sustainable Solutions, LLC, uses an Ecosystem Services approach to provide a wide range of natural resource management services, including conservation contracting, prescribed fire solutions, ecological planning services and natural resource education and training.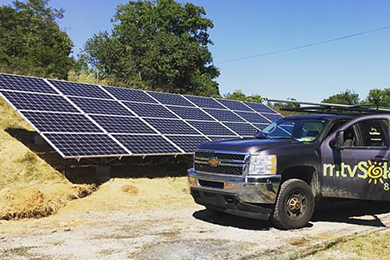 Photo courtesy of Sustainable Solutions, LLC
Since James Remuzzi founded Sustainable Solutions, LLC, in Shepherdstown, West Virginia, in 2002, the company has thrived by serving a diverse group of clients. Private landowners, federal and state agencies, nonprofits, and investor groups throughout the mid-Atlantic region count on the company to help them implement sustainable management solutions that make environmental and economic sense. 
With a growing customer base, Sustainable Solutions needed working capital for new equipment and additional staff. In addition, the company wanted to "walk the talk" in their commitment to sustainability by using solar power for their new headquarters, a former gas station.
Sustainable Solutions' proven track record of success and commitment to both environmental sustainability and economic development made them a perfect mission fit for PCAP, which was in a unique position to provide the financing and technical assistance needed to help the company grow.  
PCAP provided a blended-purpose loan that provided working capital and funded an 8W ground-mounted solar photovoltaic (PV) array.  We used the U.S. Small Business Administration (SBA) 7a Community Advantage program—a program that aims to increase the number of SBA lenders reaching underserved communities—to guarantee the loan and help mitigate the collateral shortfall so often inherent to solar finance projects.
In addition to funding, PCAP's Energy Initiative also helped the company obtain a USDA REAP (Rural Energy for America Program) grant that offset 25 percent of the cost of the array.
With PCAP funding, Sustainable Solutions hired two new employees to better serve its customers, and expects to add a third in 2017. In addition to reducing its environmental footprint and utility bills, the installation of its solar array supported green employment at another West Virginia-based company, Mountain View Solar.  James and his team love watching the meter run backward!
Sustainable Solutions' profitable business model based on preserving and stewarding natural resources is a great example of how the triple bottom line approach can enhance a company's success.